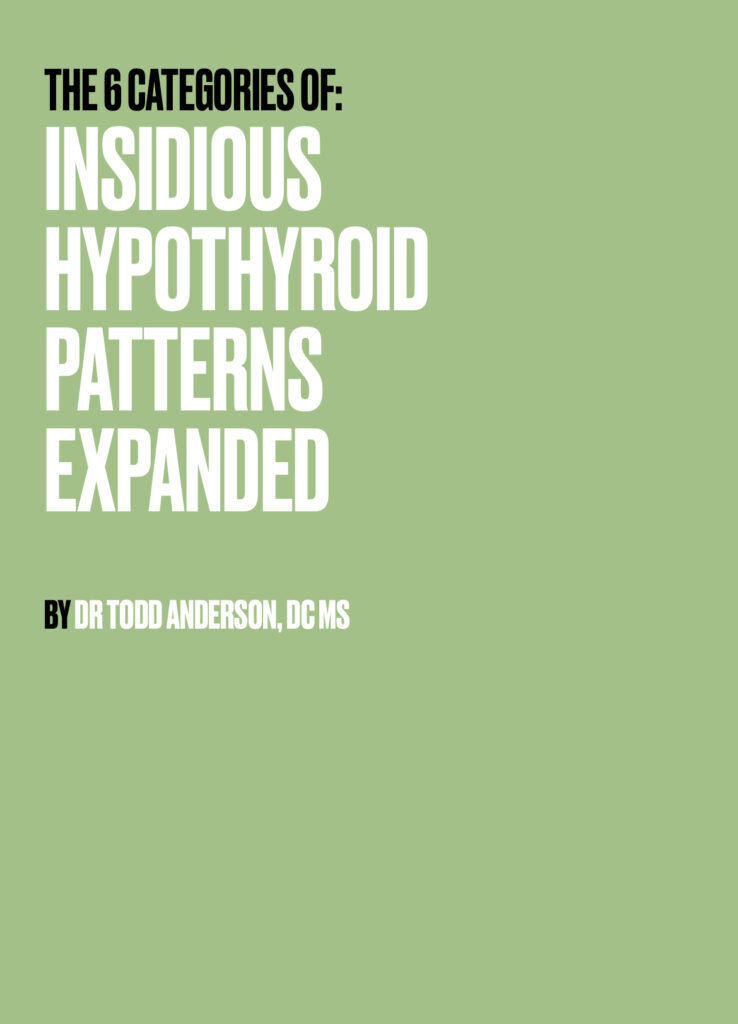 The 24 thyroid patterns can be broken down in to 6 distinctive categories of dysfunction. While many of the symptoms of a low functioning thyroid are shown across every pattern, there are some distinctions in presentations.
Category 1: Primary Pituitary, Secondary Hypothyroidism
Pituitary driven hypothyroidism come from low serotonin or low dopamine as well as excessive inflammation, cortisol, or prolactin.
Fatigue
Brain fog
Chronic pain
Depression
Low sex drive
Trouble sleeping
Get a thorough breakdown from the Ebook!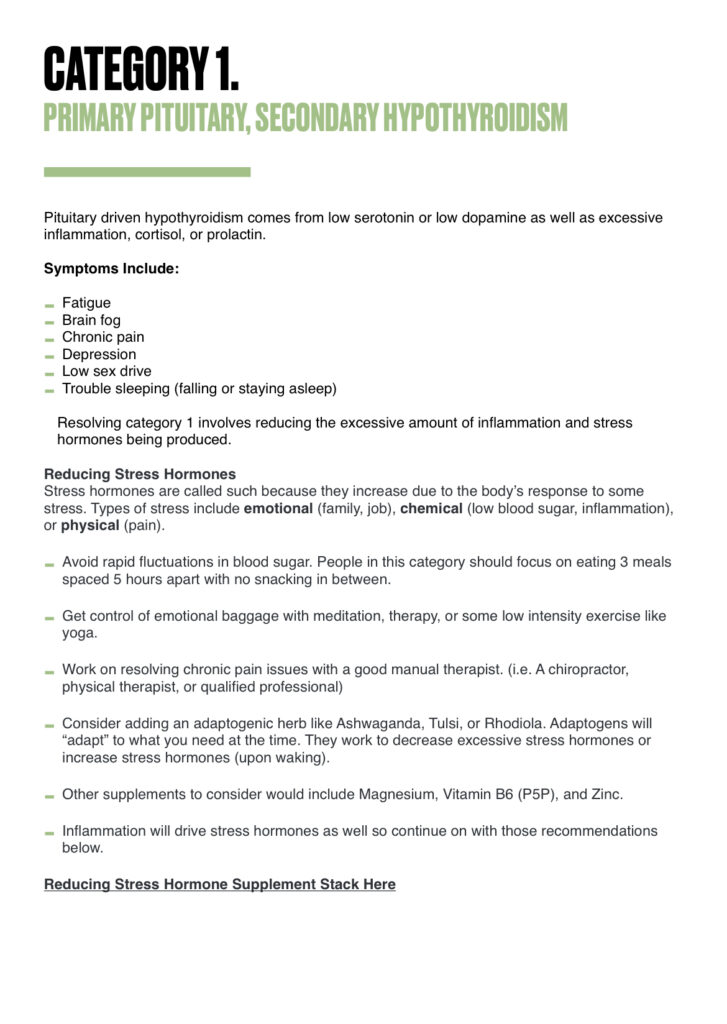 Category 2: Autoimmunity
Autoimmune issues consist of an attack on TPO, TGB, TR/TSI (hypo or hyper), or T3/T4 abs).
Fatigue
Joint Pain
Digestive issues
Skin issues
Food allergies
May manifest as hyperthyroid at first. (Heart racing at night, excessive weight loss, etc.)
Category 3: Down regulated TPO enzyme activity
TPO issues come form low progesterone, high stress hormones, or cofactor deficiencies.
Fatigue
Depression
Trouble with asleep
Cycle issues
PMS
Category 4: Down regulated 5-deiodinase activity
5-DID issues come from serotonin, dopamine, and cofactor deficiencies (down regulated 5-d) – excessive testosterone and insulin (up regulated 5-d leading to resistance) – excessive inflammation, cortisol, or dysbiosis/LPS.
Fatigue
Depression
Weight gain
Tired after meals
Digestive issues
Sleep trouble
PMS, Cycle issues, Previous PCOS diagnosis
Acne
Excessive body hair growth
Category 5: TBG issues
TBG issues come from either high tbg (Estrogen HRT) or low tbg and high fT leading to receptor resistance (elevated Estrogen, elevated insulin -> elevated test or exogenous test)
Fatigue
Depression
Trouble staying asleep
PMS, Cycle issues, Previous PCOS diagnosis
Weight gain
Acne
Excessive body hair growth
Category 6: Receptor Site Resistance
Thyroid resistance is driven by inflammation, cortisol, homocysteine, and vitamin A deficiency.
Fatigue
Chronic pain
Trouble sleeping at night
Skin issues, itchy
Cramping at night
Dry eyes
Poor night vision
Check out a walk through of 3 thyroid patterns here!

Latest posts by Dr. Todd Anderson
(see all)